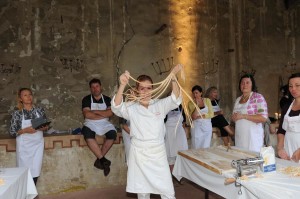 Lisa Banchieri is a great chef!
On a warm day in October Lisa and I brought a special group to the Garden of palazzo Corsini in Florence for what we thought was going to be a simple cooking lesson, it turned out to be much more: an experience of culture tradition taste and heritage.
Lisa had our guests "hands on" making pasta, and raviolis.
The Renaissance Limonaia turned out to be a perfect place for getting onto work, full of light warmth and a view to die for.
Heritage, scented flowers, colours, good wine and great company were the ingredients for a great success.
More at www.lisabanchieri.com